Having trouble accessing the TGSI Knowledge Base? Check out the following points below:
1. Nothing loads when I click the green Go to Knowledge Base button.
In this case, your County IT may have the Knowledge Base address blocked. You should request they unblock the required domains according to the following Microsoft documentation. Only the Sharepoint Online section is required.
https://docs.microsoft.com/en-us/microsoft-365/enterprise/urls-and-ip-address-ranges?view=o365-worldwide#sharepoint-online-and-onedrive-for-business
2. I get a message that says "That didn't work"
Image Example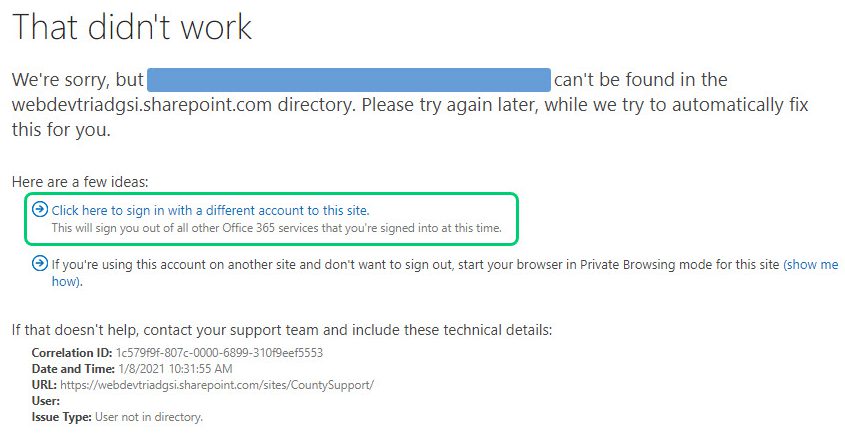 You must switch accounts. To do this, follow these steps:
Click the link that says "Click here to sign in with a different account to this site."
Use the correct email address that you have either been provided by TGSI (countyname.kb@triadgsi.net, county@ohioboe.us, or user.county@ohioboe.us), OR use the Ohio SoS account that you have requested access for.

If you have not requested access before, request access now. Please only request access once.
After requesting access, please wait a few minutes for TRIAD GSI to process it.
3. I still can't access the Knowledge Base!